To Fit A Ford Transit Custom Van, Seat Covers, 2007, Leatherette / Tan Suede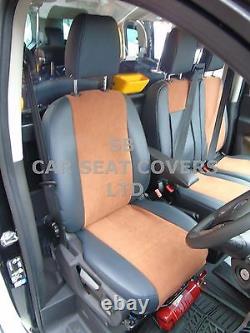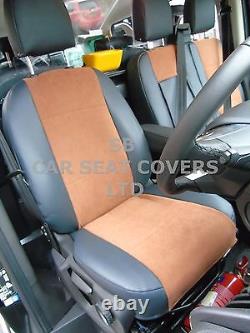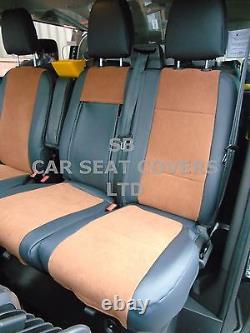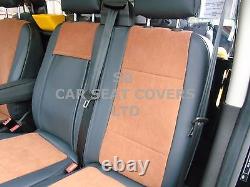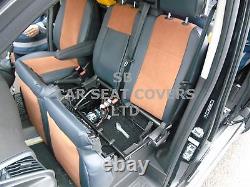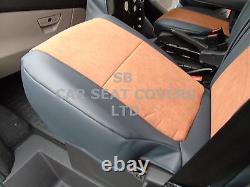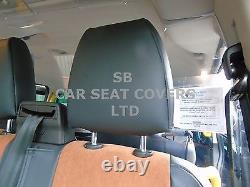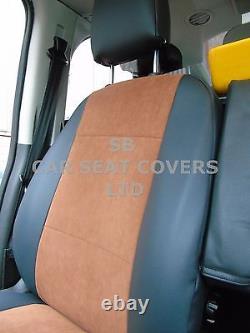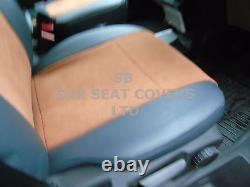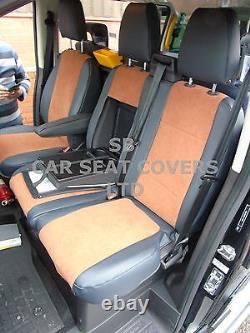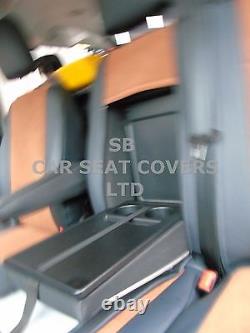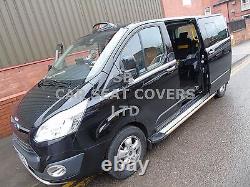 MADE TO MEASURE VAN SEAT COVER. One single and one double. Full leatherette seat covers in a combination of tan suede and. This seat cover is a spot on fit! Once gain another fantastic product from SB Car Seat Covers.
FULLY MADE TO MEASURE VAN SEAT COVERS TO FIT THIS MODEL. MADE FROM PU OEM LEATHERETTE (LEATHER FEEL / LEATHER LOOK). 1 SINGLE DRIVERS SEAT COVER- WITH ARM REST OPENING. 1 DOUBLE PASS SEAT COVER- which allows for the drop down tray- please refer images. 3 tailor made headrest covers, all the holes have already been put in the seat cover to allow the chrome bars on the headrest to go through. THE ITEM OFFERED IS FULLY CUSTOMIZED TO FIT THE SPEC OF THE VEHICLE SEATS, ACCORDING TO ISO 9001: 2000 QUALITY STANDARD. THIS ENSURES A CONSISTENT PRODUCT QUALITY THROUGHOUT THE COMPLETE PRODUCTION PROCESS. COLOUR: TAN SUEDE WITH BLACK LEATHERETTE. We are offering original OEM leatherette fabric (looks just like genuine real leather). SPECIAL FEATURES OF THIS FABRIC.
This fabric has been light tested to DIN 75202. Laminated with foam, with lining which is a British Standard. Please note we have used the same original leatherette fabric, that is on the front to go right down the back of the all the seat cover. These seat covers have been copied from factory fitted specifications and once they are fitted, they will look like your original trim. You will be amazed at how good they look.
Please allow 28 days as this product is made for you personally. ALL OUR SEAT COVERS ARE MANUFACTURED AT OUR FACTORY IN STOCKPORT, UK. MARIA, 12 YEARS OF EXPERIENCE.
ANGELA, 35 YEARS OF EXPERIENCE. MR NERO, 40 YEARS OF EXPERIENCE (Head of Machinist).
ANGIE 9 YEARS OF EXPERIENCE. A, 35 YEARS OF EXPERIENCE. KAMILA, 14 YEARS OF EXPERIENCE.
YOLANDA, 6 YEARS OF EXPRIENCE. MARIANA, 14 YEARS OF EXPERIENCE. These seat covers are individually manufactured by our experienced upholstery machinists. We have a huge portfolio of vehicle models for which we can offer full custom fit car seat covers and van seat overs. Our products are supplied to main dealerships.
We are now offering this product directly to the public. Ties to secure the covers in place. The fitting time required is approx 45 mins.
To install these seat covers correctly. AN EXCLUSIVE VAN PRODUCT BY SB CAR SEAT COVERS LIMITED -'DESIGNED FOR COMFORT AND ENGINEERED TO LAST. A new design which has been developed exclusively for your van seats to bring about a refreshing change to your interior. This particular van seat cover is a perfect blend of looks and durability. Once fitted, you will have the peace of mind that your seats will remain in a pristine condition.
If you are fed up of wishy washy seat covers that are made in the back streets of Bombay which slide all over the place and, the worst thing of course, they sweat you to death, feel free to try our UK made product. This is an English product which is manufactured to very high standards. More than 33 years of Automotive Experience- Est 1983. Exceeding customer expectations and continual improvement are the company's core values.
Close supervision over the entire production cycle i. E strict quality control, this ensures that you get a flawless item. Friendly and experienced sales staff. We are always eager to help our customer. Why should you have confidence in us?
All of our seat covers are made and delivered directly from our factory in Stockport. IT WILL HAVE TO BE SIGNED FOR. WE WILL NOT PAY FOR THE RETURN PP COSTS.
UNLESS IT IS OUR FAULT E. ALSO PLEASE TAKE A LOOK AT OUR HUGE RANGE OF AUTOMOTIVE PRODUCTS.
A HUGE RANGE OF CUSTOM FIT AND UNIVERSAL FLOOR MATS. ALSO PLEASE TAKE A LOOK AT OUR. HUGE SELECTION OF ITALIAN LEATHER STEERING WHEEL COVERS. FULLY MADE TO MEASURE CARPET FLOOR MATS. FANTASTIC CHOICE OF HEAVY RUBBER/PVC DESIGNER CAR MATS. Office - 0161 442 2121.
ONLY THE BEST FOR OUR CUSTOMERS! UNIT 18, HILLGATE BUSINESS CENTRE.
VAT REGISTRATION NUMBERS: UK 876 1973 74. We are the original manufacturers..
Look for the original SB LOGO.

---