RallyflapZ Mudflaps Fits Ford Transit Custom PFL 12-17 Black 4mm Black G RFRB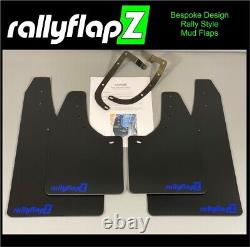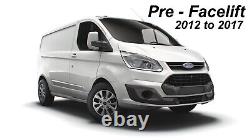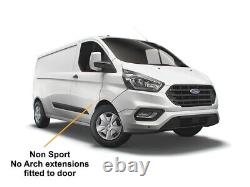 Bespoke Custom Design Mudflaps to fit. Will not fit Sport Version (they are coming soon). Please read checklist at the bottom of this advert before ordering, this will stop long delays having to swap incorrectly ordered goods. Designed and made to order here in the UK by us'The rallyflapZ Team. Designed for Looks & Protection.
Only the Best Materials used. This listing is for - 4mm Thick PVC Gloss Black.
With rallyflapZ Logo Royal Blue. TRANSIT CUSTOM (PFL) KIT INCLUDES. 2 x Front Mud Flaps.
2 x Front Stainless Steel Brackets. 2 x Rear Mud Flaps + Fixings Required. (The plugs provided are very strong and are difficult to remove once inserted) Avoid expensive re-sprays and get some protection now against Road Grit, Mud, Dirt & Grease Our rallyflapZ offer outstanding durability when compared to conventional OEM hard plastic or moulded Mudflaps, You can be assured that with our rallyflapZ come peace of mind that they can be exposed to the harshest weather conditions without any danger of corrosion. Our Logos are a High quality vinyl material which is applied once the Mud Flaps have been cut to shape and sanded.
The Vinyl is long lasting once applied to the mud flap material - however in the event of peeling or damage to them - we offer a life time guarantee on them! Is your van a PRE FACELIFT or a FACELIFT. (see pic's) to ensure you are ordering correct versions. Is your van a SPORT or NON-SPORT - these will only fit the Non Sport! (see gallery pictures for reference). No arch extension on the bottom of door. Any arch extension on bottom of door, includes other kitted up versions. As there isn't anything to fix our Front Mud Flap Bracket to at the bottom, check to see if your van has the original small Front Mud Flaps Fitted. If it DOES - you can re-use the bracket by drilling out the rivets and increasing the hole size to 6.5mm. Our FRONT Mud Flap Bracket (supplied as standard with the kit) can now bolt to this. Which will include special self-tapping bolts to fix it to the chassis. If you DO NOT have the rear inner arch liner fitted - some Pre Facelift and the very latest version Facelift vans don't have them installed.

---