Mintex Rear Brake Discs Coated 288mm Pair For Ford Transit Custom VN 2.2 TDCi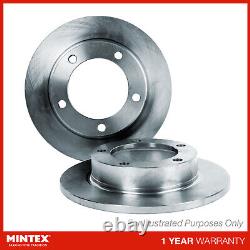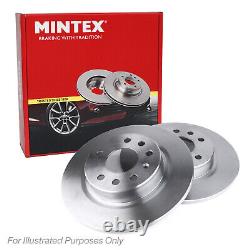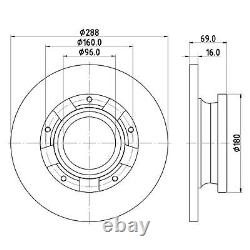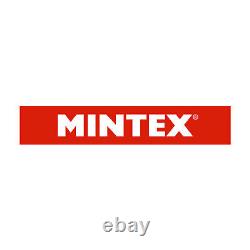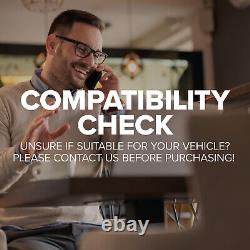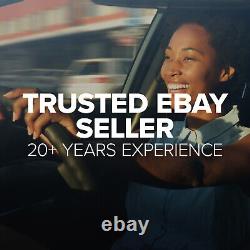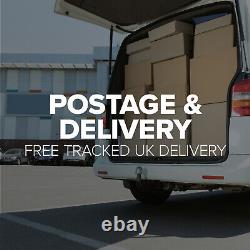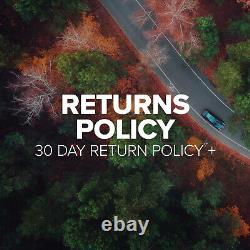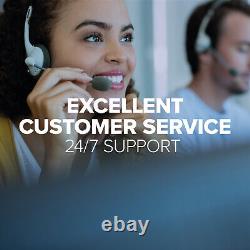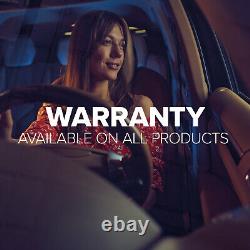 Mintex Rear Brake Discs Coated 288mm Pair For Ford Transit Custom VN 2.2 TDCi. Need help or advice before purchasing? Bolt Hole Circle Ø (mm). Still unsure if this part fits?
Send us a message with your registration and we will check. As authorised distributors of Mintex Brake Products, we take pride in offering you the finest selection of brake components engineered for optimal performance and safety. Mintex has been a renowned name in the automotive industry for decades, consistently delivering innovative braking solutions that meet the highest industry standards. Our Mintex Brake Discs are no exception, designed to provide exceptional stopping power, reduced brake fade, and extended service life. Whether you're looking to upgrade your vehicle's braking system for enhanced performance or simply need to replace worn-out components, our Mintex Brake Discs are a reliable choice. We understand that choosing the right brake components can be daunting. That's why our fully trained customer service team is here to assist you with any fitment or product questions you may have.
Our experts are well-versed in Mintex products and can provide you with personalised guidance to ensure you make the right choice for your specific vehicle. When you shop with us, you can trust that you're getting genuine Mintex Brake Discs backed by our commitment to excellence. Upgrade your vehicle's braking performance with confidence by choosing Mintex Brake Discs. Browse our extensive selection today, and experience the difference that Mintex quality makes. Your safety and satisfaction are our top priorities, and we're here to help you every step of the way.
The Mintex Braking Range Consists of. Once you place an order with us, our dedicated team works diligently to dispatch your items promptly, so you can get your vehicle back on the road as quickly as possible.
Whether you're in the UK or anywhere else around the world, we've got you covered. Once your order is dispatched, we provide tracking information, so you can monitor its progress and know exactly when to expect your package.
We take great care to ensure that your items arrive in pristine condition. All products are securely packaged to protect them from any potential damage during transit. To be eligible for a return, the item must be unused, in its original condition, and in its original packaging. Please ensure that all accessories, manuals, and other components are included when returning the product.
We stand behind the quality and performance of our products. In the event that a repair is not feasible, or if the same product is no longer available, we will offer a replacement item of equal value.
From essential components like brakes, filters, and engine parts to performance-enhancing upgrades, DIY tools or air fresheners, we have everything you need to keep your vehicle running smoothly and looking its best. Your shopping experience is at the heart of what we do. Our dedicated customer service team is always ready to assist you with any inquiries or concerns. We strive to provide prompt and helpful responses to ensure you have a seamless experience with us.
Our loyal customers and excellent reviews speak volumes about our commitment to excellence - your satisfaction is our ultimate goal. We're here to assist you in finding the right products for your vehicle and to make your shopping experience enjoyable and hassle-free. Browse our store, find the perfect automotive solutions, and experience excellent customer service.
We look forward to serving you and meeting all your automotive needs. What is a brake disc, and what is its purpose in a vehicle's braking system? A brake disc, also known as a brake rotor, is a vital component of a vehicle's braking system. Its primary purpose is to work in conjunction with the brake pads to create friction, which slows down and eventually stops the vehicle when you press the brake pedal.
What are the different types of brake discs available in the market? There are two main types of brake discs: vented and solid. Vented discs have cooling channels between the friction surfaces, while solid discs are a single, solid piece of metal. Vented discs are typically used for high-performance applications due to their better heat dissipation capabilities.
Please check your vehicle and the listing to ensure this is the correct part for your vehicle. If you are in any doubt, please contact our customer service department first before ordering and provide your cars registration number. How do I know when it's time to replace my brake discs?
If you are unsure please consult your vehicle manual or an approved fitting station. What are the signs of worn or damaged brake discs?
Signs of worn or damaged brake discs include deep grooves or scoring on the disc surface, visible cracks, warping (causing pulsation during braking), and a noticeable decrease in braking performance. Can I replace just one brake disc, or is it recommended to replace them in pairs? It is generally recommended to replace brake discs in pairs, meaning both front or both rear discs should be replaced simultaneously. This ensures even braking performance and safety.
What is the difference between vented and solid brake discs, and which is better for my vehicle? Vented discs are better for high-performance and heavy-duty applications because they dissipate heat more efficiently. Solid discs are suitable for standard everyday driving.
What materials are brake discs typically made from, and how does this affect their performance? Brake discs are commonly made from cast iron, composite materials, or carbon ceramic. The material affects factors like heat tolerance, weight, and cost.
Carbon ceramic discs are lightweight and offer excellent performance but come at a much higher price. How do I choose the right size and specifications for my vehicle's brake discs? Start by using our vehicle compatability table and further information within the listing to determine the suitability for your vehicle. You can also reach out to our customer service team who will be more than happy to confirm this part against your vehicle.
If contacting our customer service team please provide your vehicle registration number. What is the average lifespan of brake discs, and how can I extend their durability? The lifespan of brake discs varies depending on driving habits and conditions.
On average, they can last between 30,000 to 70,000 miles. To extend their life, practice smooth braking, avoid excessive braking in heavy traffic, and maintain your entire braking system. Is it necessary to bed-in new brake discs, and if so, how is it done? Yes, it is essential to bed-in new brake discs. This process involves gradually and gently braking to allow the brake pads to seat properly against the new discs.
Are there any maintenance tips to prevent brake disc problems or issues? Regularly inspect and clean your brake discs, replace brake pads as needed, and ensure your brake system is in good working order by scheduling routine maintenance with a qualified mechanic. What is brake disc warping, and how can I prevent it from happening? Brake disc warping occurs due to excessive heat buildup during heavy braking. To prevent it, avoid aggressive or prolonged braking, use quality brake pads, and ensure your braking system is in good condition.

---