Brand New Genuine Ford Transit Custom 2012-16 2.2l Oil Service Kit 2128722 Sv39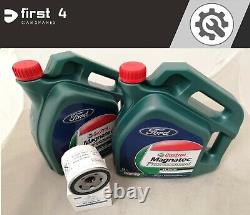 BRAND NEW GENUINE FORD TRANSIT CUSTOM OIL SERVICE KIT. 2128722 - METAL OIL FILTER. 2 X 5 LITRES GENUINE FORD/CASTROL MAGNATEC 5W30.
` D` SPEC OIL IS THE ONLY TYPE OF OIL RECOMMENDED BY FORD FOR USE ON THIS ENGINE AS EARLIER B & C `SPEC` IS NOT SUITABLE FOR THIS VEHICLE - Z15534F. Item Name: GENUINE BOXED SERVICE KIT WITH GENUINE FORD OIL. Please note: Ford originally fitted these engines with a paper element type oil filter but due to some vehicles experiencing problems a modification was made to revert the oil filter housing/cooler back to using a metal screw on filter. We also sell the same kit with the spin on oil filter.
THIS CAN BE CONFIRMED BY YOURSELF BY CHECKING UNDER THE ENGINE NEAR THE OIL SUMP TO CONFIRM WHICH TYPE OF OIL FILTER IS NEEDED. EARLIER 2012/2013 MODELS OF THE 2.2L TRANSIT CUSTOM COULD HAVE EITHER FITTED. IF YOU ARE UNSURE IF THESE ITEMS ARE SUITABLE FOR YOUR VEHICLE PLEASE MESSAGE US YOUR VEHICLE IDENTIFCATION NUMBER AND WE WILL GLADLY ASSIST YOU. PLEASE NOTE : The vehicle compatibility should be used as a guide only, on occasions there might be more than 1 option available for some vehicles. This can be done when paying for your goods in the "add details" section prior to pressing the button to pay.
Thank you for your assistance. Any body panels dispatched are to be checked prior to signing the courier's documents - we are unable to claim for damages after the event if signed for as serviceable. If the driver will not wait for you to unwrap the consignment, please sign as "damaged".

---